BK Sports Fest 2016
Details

Created: Sunday, 24 April 2016 10:18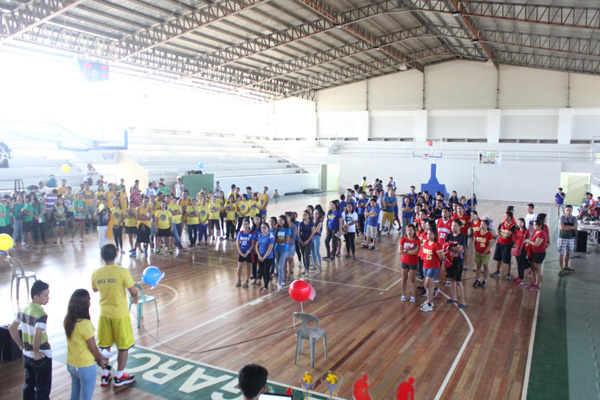 Bangko Kabayan held its annual Sports Fest at Convention Center, Quilo-Quilo, Padre Garcia last April 23, 2016.
It was another fun-filled and exciting bank-wide event hosted by Cluster 3, headed by Mgr. Rey V. Orense (Area Head), and participated by branches from different clusters and various departments from the executive office.
The program started with an opening prayer led by Mr. Mark Joseph C. Salosa (CDS – SNJ), followed by the singing of the Philippine National Anthem conducted by Mr. Prudencio Panopio (Area Supervisor) and taking an oath of sportsmanship led by Mr. Jeffrey Lindog (CDS – RBB). Then, the symbolic lighting of torch was done by the corresponding representatives of each Team. Red Team (Cluster 1), Blue Team(Cluster 2), Yellow Team(Cluster 3) and Green Team (Executive). Penultimately, Mr. Rey Orense welcomed everyone, presented the rules and regulations of the games, and introduced the officials for the event. Finally, when both players and officials were ready, the games officially began.
For Volleyball Girls Game 1, Green Team was the first team to set off to the finals after winning over the Blue Team. In Game 2, Red Team was able to eliminate the Yellow Team and moved forward to face the Green Team for the finals. While the Volleyball girls were taking their break for the finals, Basketball Boys began their game. For Basketball Boys Game 1, Red Team defeated the Blue Team securing them a slot for the finals. In game 2, Green Team overtook the Yellow Team.
Each game was full of excitement and intense emotions, stimulating not only the players but also the audience, particularly in the Finals Game. The Convention Center was filled with yells and cheers in an unwavering support to their teams as they aspire to bring home the title of Bangko Kabayan Sports Fest 2016 Champions.
As the games ended, the results were officially announced. Green team emerged as champion in both Volleyball Girls and Basketball Boys, making them the Overall Champion for this season. For individual awards, Ms. Cherry May Rivero (Loans Custodian – CSD) was declared the MVP in Volleyball while Mr. Matt Furuta (BK intern) was hailed the MVP in Basketball.