Enriching Entrepreneurship at the Grassroots
Details

Created: Friday, 03 June 2016 10:18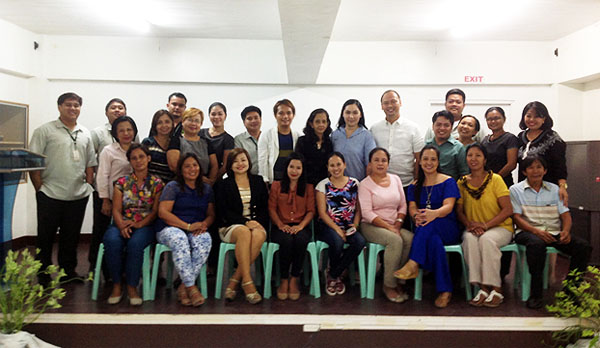 "Getting into business is knowing – knowing yourself, your market, your competition, your customers, your environment and your purpose."
Last summer, a number of BK clients participated in the Entrep Eskwela "Grassroots Entrepreneurship and Management Seminar" made possible by Bangko Kabayan Foundation, Inc.
The seminar was held in two different venues: at Agot's Bar and Restaurant on May 6 and 13; at the Immaculate Concepcion College on May 20, 27 and June 3.
From 37 clients who registered for the seminar, only 21 attended the orientation. Then only 12 clients who were from BK branches in Balayan, Calaca, Calatagan and Nasugbu completed the four day session held at the Immaculate Conception College Accreditation Room. To date, participants are up in completing their business plan for submission to and review by Bangko Kabayan Foundation.
The enterprises of the participants include glass and aluminum manufacturing and installation, retail of homemade products, bamboo furniture manufacture, rolling store, selling of frozen products, bakery, sari sari store, grocery, and hotel rental, selling in the public market, nutrition club and sidecar of tricycle manufacturing. There is also an inventor of vendo machine for condiments to be distributed in sari sari store.
The seminar aims to equip grassroots entrepreneurs with skills that will help them cope up with the challenges in the business environment and thrive in their own enterprises through quality management and innovative products and/or services.
During the first session, facilitators, Mr. Gerneil Rivera and Ms. Geraldine Magpantay schooled the participants on how to be an excellent entrepreneur through Self Mastery. The session delved into the dynamics of the mind, heart and gut of a true entrepreneur and aimed at personal discovery of each person's leadership potentials. Participants learned the difference between livelihoods and enterprise.
The next session touched on Opportunity Seeking and Operations Management. Facilitating the session, Ms. Jhonalyn Napa and Mr. Leandro Ofrecio led the participants in answering important questions such as, "Where is the best location to set up an enterprise? What business has the potential to earn? What business is most appropriate for me? What is the value added for your product? Why would a customer pick you? How are you different from others?" At the end of the session, participants learned that Quality, Delivery and Price are what puts premium in the competitiveness of the product. "I talk to my baker on how I want the quality of my bread should be" Cherry, a bakeshop owner, shared to her fellow participants.
Participants were also taught with the basics in Financial Management. Facilitator Ms. Gloria Gonzalvo introduced them to financial tools and concepts such as T accounts, debit and credit, assets and liabilities and balance sheets that they may use to better manage their business. She taught them how to record business transactions properly and maintain an inventory. "I am paying myself for working in my business through savings", Elvie, owner of a Glass and Aluminium Manufacturing enterprise, shared about her saving strategy.
During the last session, Mr. Conrad Miranda and Ms. Cleofe Lagman provided a very significant input on the value and conduct of Marketing and Human Resource Management. Comparing Marketing Strategy with romantic courtship, facilitators highlighted that marketing should aim at a lifelong relationship with target market/customers. Entrepreneurs should also give importance on its greatest asset, its people by providing them motivation to engage actively in the enterprise.
The facilitators who generously shared their valuable technical and practical knowledge as well as inspiration to the participants were officers and outstanding employees of Bangko Kabayan, holding positions such as Branch Banking Head, Cluster Area Manager, Microfinance Head, Microfinance Area Head, Community Development Specialist, GSAD Head and Microfinance Supervisor.
Asked about the experience, Leila, engaged in tricycle manufacturing told other participants, "My children are very happy to see me answering assignments for Entrep Eskwela." "I stay up late just to finish my homework", Manlyn, a carinderia owner, shared, giving testimony to the importance and relevance of the seminar to small entrepreneurs like her.