Growth and stability highlighted during BK's 59th Stockholders' Meeting
Details

Created: Monday, 21 March 2016 10:18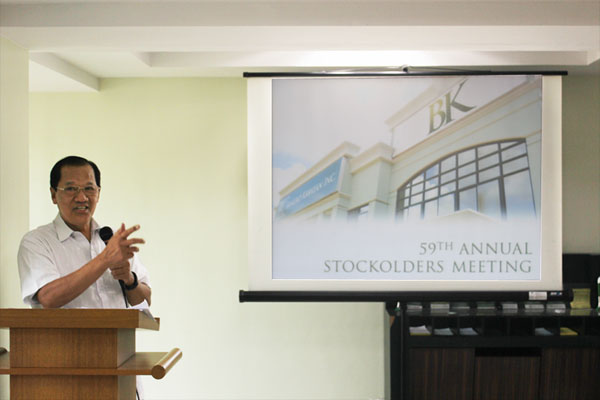 BK conducted its 59th Annual Stockholders' Meeting at its Head Office in Ibaan, Batangas on March 20, 2016. The President, Atty. Francis S. Ganzon, officially called the meeting at 2:15 in the afternoon, with 96% percent of all stockholders in attendance in person and by proxy. Members of the bank's Board of Directors, led by Chairman Gerardo Ozaeta, were also present.
At the outset, Atty. Ganzon discussed BK's financial highlights, reporting improvement on the bank's deposit base by 8.29% compared with the previous year's level or an increase of P145M, for a total of P1.899B deposits at the end of 2015. In the area of loans, the total loan portfolio ended with P1.43B, with a single-digit past due ratio of 3.70%. He attributed such improvements, among others, to the growth in the bank's overall resources by 5.06%, which brought bank's total resources to P2.59B by year-end. He then announced that the Board has approved a 12% cash dividend to be given to all stockholders.
He also updated all stockholders with the operational and organizational highlights for the year 2015, which was one of BK's new branches – BK Nagcarlan, who emerge as the best branch. Though the plan to put up more branches last year was not realized due to difficulty in finding suitable sites, where Telco (IT-VPN) is available or accessible, it shall be actively pursued this year, starting with the opening of a branch in Talisay, Batangas this April. Two more branches shall be opened in the province of Quezon towards the third quarter.
The bank has maintained the BSP's CAMELS Rating of 4, the highest grade that has been given so far to players in the banking industry, after the last general examination in November.
It was also reported that the bank's upgrade into a private development bank is now imminent despite numerous delays and stricter regulatory measures the bank had to endure along the process. In fact, the AOI and Bylaws amendments have already passed the scrutiny of the Securities and Exchange Commission's monitoring department and the Permit to Operate as a development bank shall be granted soon.
The bank also celebrated and remembered with gratitude the centennial anniversary of the BK's founding father, Mr. Ben Medrano, last year. A gala dinner, with a program reminiscing and highlighting the achievements of Mr. Ben Medrano as an entrepreneur, employer and father, capped off the bank's 58th year held in Club Yolanda in Batangas City last August.