BK holds General Assembly a la Survivor
Details

Created: Thursday, 25 February 2016 10:18
Celebrating camaraderie and competitiveness, Bangko Kabayan held this year's General Assembly themed "SURVIVOR –Challenged, Contended, Conquered," at Virgin Beach Resort, Laiya, San Juan, Batangas, last February 25, 2016.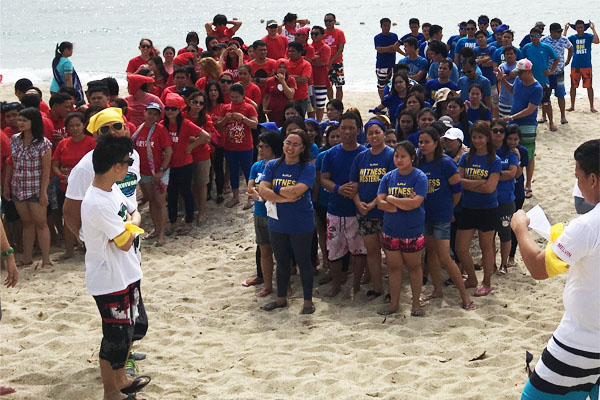 True to its theme, this year's general assembly was conducted to promote camaraderie among employees and give due recognition to those who have "survived" and succeeded in achieving their respective targets in the year 2015, as well as those who really went out of their way to perform their job well and to serve the communities where they belong to.
It was a one-day event, with two major programs, that is, the games and the awards ceremony.
Games
During the games, all employees were divided into five (5) teams – Green Python (Exec, Credit, PBU, BBD, Legal), Black Panther (HR, GSAD, Risk, Compliance, Microfinance, I.T., Audit, Accounting, Comptroller), Red Fox (Cluster 1), Blue Shark (Cluster 2) and White Tiger (Cluster 3) – who contended in three (3) games, namely, treasure hunt, reversed water relay and "body sponge," a game wherein members of the group have to get water from the sea using only their clothes and body in order to fill a pail or bucket and win. After the games, it was the Black Panther who emerged victorious.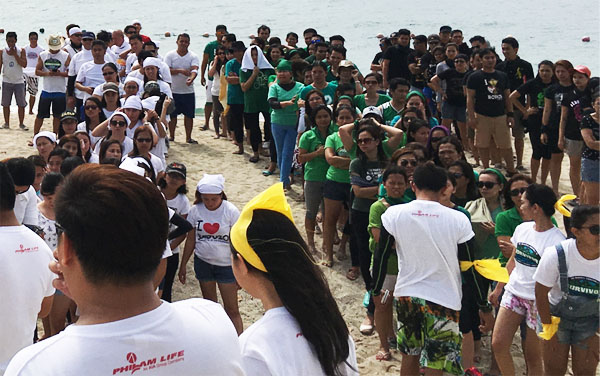 Awards
Mr. Gerneil Rivera, OIC HRD, presented the "Perfect Attendance Award" to Mr. Crisanto Sevilla and Ms. Arlyn Yabyabin.In Microfinance, however, Ms. Ana Marie Almendras of Agoncillo Branch was named the "Best Kabayan CDS" while Mr. Lennon Mismanos of Cuenca Branch earned the title "Best Kapitan CDS" for the year 2015. Then the major awards followed.
Mr. Leandro Ofrecio and Mrs. Fides Ganzon-Ofrecio graced the presentation of the said awards, while the President, Atty. Francis Ganzon, the Managing Director, Mrs. Teresa Ganzon and the EVP, Mrs. Liza V. Mercado honored the actual giving of the awards.
For Best in Deposit Awards, BK-Nagcarlan Branch earned the first place, while BK-Calatagan Branch and BK-Ibaan Branch received the second and third place, respectively. For Best in Loans, BK-Nagcarlan Branch remained on top, while BK-Lipa City Branch and BK-Batangas City Branch basked on the same spotlight in second and third place respectively.
However, for Best in Income, BK-Mabini Branch took the top spot, with BK-Ibaan Branch and BK-San Jose Branch earned the second and third place, respectively. For Best in Operations, BK-Lipa City Branch bested all other branches, with BK-Pagsanjan Branch and BK-Tanauan City Branch placed second and third respectively.
For Best in Outreach (Number of Accounts), BK-Nagcarlan Branch again owned the first place, with BK-Tiaong Branch and BK-Cuenca Branch in second and third place respectively.
Then, for bagging the Best in Deposit, Best in Loans and Best in Outreach (Number of Loans) Awards, BK-Nagcarlan Branch convincingly earned the "Best Branch Award" for the year 2015.
***
The event was organized and facilitated by the Management Trainees (Batch 8) under the guidance of Ms. Fides Ganzon-Ofrecio, Corporate Planning Head of the Bank.