Gala Night: BK Celebrates in Gratitude
Details

Created: Saturday, 22 August 2015 10:18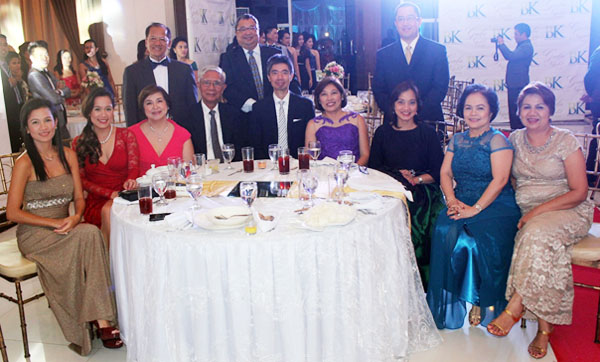 This year's General Assembly was completely in a new level because it served as an avenue for BK to celebrate Bienvenido "BR" Medrano's 100th Birth Anniversary, the first ever BK Gala Night, and BK's 58th founding anniversary. Weeks and months of preparation and anticipation ended when BK employees, dignified and graceful in their best robes, finally set foot in the commodious hall of Club Yolanda for the annual General Assembly themed Oscar's Awards Night, last August 22, 2015. The venue was perfect for the event BK employees, clad in classy attires, and really looked amazing walking on the red carpet that some expressed their astonishment.
At the start of the event each branch and department were formally introduced and given the chance to showcase their gracefulness and outfit on the red carpet and stage. To bless the event, Mrs. Dory Lado led everyone in a prayer. Then, Mrs. Linda R. Lejano delivered her opening remarks, recognizing the effort of everyone exerted to participate graciously in the event. For the highlights of the event, Mrs. Teresa M. Ganzon reminded everyone that the General Assembly has always been a tradition to strengthen and epitomizes the Core Values of BK. She recalled the fact that the two previous assemblies focused on Commitment to Community Development and Integrity. However, she declared that this time the celebration should rightfully center on the person who truly became an example of all those values, none other than the great founder of BK, the late Bienvenido "BR" Medrano, on the occasion of his 100th Birth Anniversary. Then she introduced the Guest of Honor, Mr. Gerardo Ozaeta, who walked up the stage accompanied by the crowd's applause. In his speech, Mr. Ozaeta told everyone a story of the life of BR and the three Ozaetas the latter got to know, including the guest himself.
To inspire all employees, award were given to the employees that really went to the Extra Mile Awards, these were given to 10 exemplary employees who continuously give extra time and effort in performing tasks and deeds, which are not confined to their job descriptions. An additional special award, were given to employees who went out of their way to improve their skills and knowledge through continuing education.
Adding to the number of awards were the Service Awardees for the 10-year Service Award and a 20-year Service Award. For the first time in BK's history, the 30-year Service Award, was bestowed on Mrs. Liza V. Mercado.
The president, Atty. Francis S. Ganzon, thanked and appreciated everyone's wholehearted participation, evident in each employee's efforts to dress superbly for the event. After the program, the floor cleared for everyone to loosen up and dance to the rhythm of lively hit songs from different genres. It was truly a celebration in gratitude, an occasion epitomizing all that BK truly values – its guideposts in achieving greatness in 58 years of service.