Bienvenido "BR" Reyes Medrano "Dangal ng Ibaan, Ama ng Bangko Kabayan"
Details

Created: Monday, 15 June 2015 10:18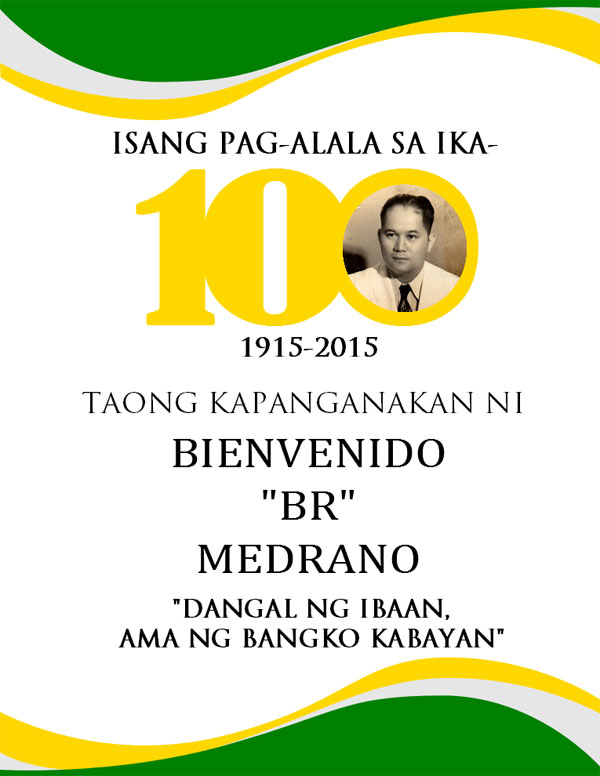 Commemorating the 100th Birth Anniversary of one of the founding fathers of Bangko Kabayan, let us look back at Bienvenido "BR" Reyes Medrano's life achievements and greatest moments.
On June 20, 1915, BR was born in the town of Ibaan, Batangas.
He and his wife, Vicenta Agregado, were blessed with seven children.
He graduated with a degree in Commerce in the Far Eastern University and eventually became a Certified Public Accountant in 1939. He also took up Law in the Philippine Law School for three years, and Chemical and Civil Engineering in MAPUA. He also studied Ocean Steamship Management in New York Institute, USA.
He, then, entered public service and worked for several government offices, such as, the Tanggapan ng Kalusugan and Tanggapan ng Pagsusuri. He also served as a provincial councilor for the province of Batangas in 1981.
However, he became more successful and distinguished in business. He co-founded different companies like the Far East Bank and Trust Company, California Manufacturing Company and Monterey Farms, which later grew into the "giant" San Miguel Corporation we know today. He also became the youngest president of the Philippine Chamber of Commerce and the second Batangueño who held such position during his time.
Despite his overwhelming success in business and personal life, he did not forget his hometown. He ventured in different businesses, which greatly benefited the community of Ibaan. First, the Ibaan Electric and Engineering Corporation that supplied electricity and powered the economy of Ibaan, in 1958. Next, the Ibaan Rural Bank, which became the successful and popular Bangko Kabayan. Recognizing the fact that Ibaan is known for its main product, mosquito net or "kulambo," he founded the Cottage Textile Development Corporation, which became Superior Textile Mills, Inc. and even started the Ibaan Weavers' Industrial Cooperative. He also helped the farmers in Ibaan and founded the Ibaan Agro Industrial Corporation that became one of the biggest suppliers of poultry and feeds products in Metro Manila.
He died on June 20, 1991 at the age of 76.
On July 13, 2015, BR was bestowed the honor "Dangal ng Ibaan" through an ordinance passed by the Municipal Government of Ibaan. Same ordinance designates a portion of the community park of Ibaan for his memorial statue or bust in recognition of his unparalleled contribution to his hometown.
"A life well lived." Taking a backward glance at all the legacies he left, one could not help but be amazed of how extraordinary he and his life was. He never lived to see the Bank he founded as an Economy of Communion (EOC) Enterprise but he undoubtedly knew all the EOC principles by heart, as evidenced by the life he spent in service and in giving.