Bangko Kabayan accredits Philam Life as Credit Life Insurer
Details

Created: Saturday, 10 October 2015 10:18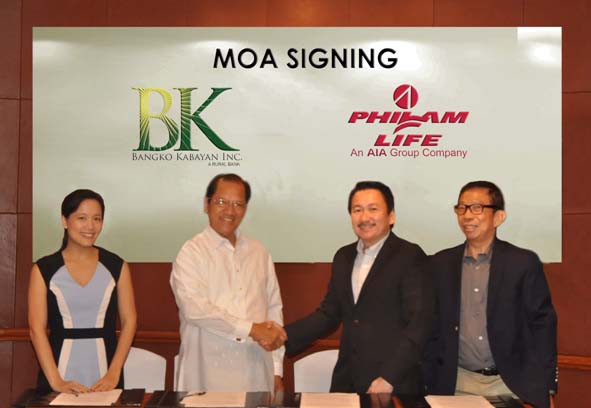 Bangko Kabayan Corporate Planning Head Fides Ganzon-Ofrecio and President Francis Ganzon, and Philam Life Corporate Solutions Sales Head Erwin Go and Agency Manager Lito Melendres.
Taking out a loan from a bank entails more than just paper work. There are a lot of things to consider including what happens to the loan when something happens to the borrower? Because of this, insurance companies work closely together with banks to improve the way loans are handled in unfortunate situations.
One of the country's largest life insurance companies, Philam Life, was recently entrusted by one of the largest rural banks in South Luzon, Bangko Kabayan, Inc., to insure its borrowers with Credit Life Insurance. Designed to protect lenders against the possibility of unpaid loans due to a borrower's untimely death, Philam Life's Credit Life Insurance ensures that loans are paid, assets and possessions safeguarded, and businesses are kept intact. Bangko Kabayan currently has 20 offices located in Batangas, Laguna and Quezon that service more than 50,000 clients.
Through the years, Philam Life has earned the trust of customers for its financial strength, strong brand name and ability to deliver on its promises to over 600,000 individual policyholders and over 1,700,000 insured group members. Philam Life understands the real-life needs of its customers and provides the right plans and the right solutions.
For more information on Philam Life's Credit Life Insurance, please visit http://www.philamlife.com/en/business/products-and-services/credit-life/.