Sales Kick Off 2015: "Mission Possible Code L:1.65B / D:1.88B
Details

Created: Saturday, 28 February 2015 10:18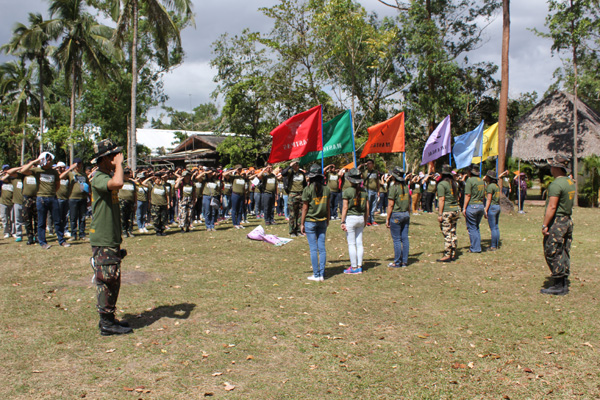 Sales Kick Off 2015: "Mission Possible Code L:1.65B / D:1.88B," the first ever Sales Kick Off of Bangko Kabayan, was successfully held at Bluroze Farms, Lipa City, Batangas last February 28. Considered as one of the historic and unforgettable assemblies of Bangko Kabayan, the event aims to ratify the determination of each and every one to achieve the assigned target for this year 2015.
In the open grounds with a military training camp set-up, the 330 employees of Bangko Kabayan formed a battalion formation consisting of six (6) platoons, namely, Masigasig, Masikap, Masipag, Mahusay, Marangal and Matatag. After all have assembled in order, the program commenced with an opening prayer, promptly followed by a parade of colors wherein employees marched their way to the convening hall. There, Mrs. Linda R. Lejano gave the opening remarks.
Upon giving the mission command, Mr. Dindo Ofrecio and Ms. Fides Ganzon-Ofrecio re-emphasized the importance of the corporate Vision and Mission of Bangko Kabyan. Then, they laid the target in loans and deposits of all the branches for the year 2015. Right after, Mr. Rymar Gutierrez and Ms. Jen Baculo, leaders in achieving loans target, presented the Kabayan and Asenso Loan products respectively.
To inspire all employees, awards were given to the outstanding employees and branches that really went the extra mile in the year of 2014. Besting all other branches, BK-Lipa Branch emerged as the Best Branch and recipient of the Best in Loans and 3rd best in Income awards.
In culmination of the event, all participants gathered around a bonfire wherein they held their hands together and uttered their oath and commitment to the challenge. And as the flames which symbolize the light towards the target goal blazed, they yelled "Mission possible code L: 1.65b/D: 1.88B!"