BK Highlights Value of Integrity in General Assembly
Details

Created: Monday, 24 February 2014 12:18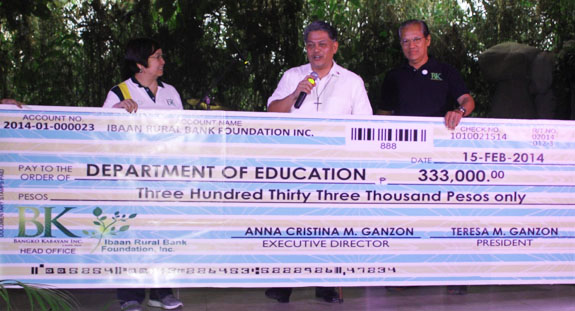 Last February 15, 2014, Bangko Kabayan held its General Assembly in BluRoze Farms and Wildlife, Lipa City. The main theme of the event was Integrity, one of the bank's five core values.

The first highlight of the event was the torch parade of the Executive Committee members signifying the analogy of the kawayan with the bank's history and values. After which, a presentation which showed last year's events was presented by Ms. Teresa Ganzon, Managing Directress. The next activity was a surprise quiz to randomly chosen employees about the vision, mission and the core values of BK. There was also an intermission number of the BK's band name Eksprakenhayt. Another highlight of the program was the launching of the "Service with a Smile" Campaign. Special awards were given to Mr. Raffy de Asis as Smile Ambassador and Mr. Ryan Magtoto as winner of the smiley pin contest.

In the afternoon, outstanding staff, officers, and branches were awarded. There were twelve awardees for Administrative Excellence, three for Extra Mile, one for Innovation, two for Leadership, and six awardees for Marketing Excellence. Mr. Neil Marundan, OIC of Human Resource Department, was given the President's Award.

The guest speaker for the occasion was a person who very well embodied the value of integrity - Bro. Armin Luistro, FSC, Secretary of the Department of Education (DepEd). He talked about his experiences in government, the challenges that he encountered, and how it was very clear to him that there was no other option but to be straight, honest, and focused on his tasks as a public servant. It was very inspiring. As a sign of gratitude, there was a ceremonial turnover of a check for the Department of Education from the corporate foundation IRBFI – the proceeds of which will be donated to the teachers that suffered from typhoon Yolanda.

The GA was concluded by the closing remarks of Atty. Francis Ganzon, BK President and it officially ended with a celebration the Holy Eucharist.