The True Legacy of Success
Details

Created: Saturday, 09 December 2017 10:18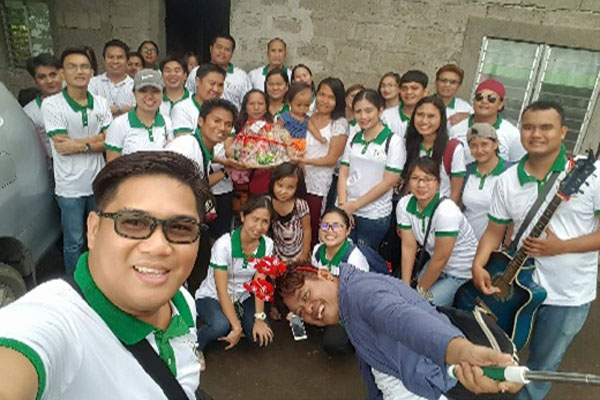 Leah Bautista (Balayan Branch)
It was a gloomy Saturday morning, December 9, 2017, an ordinary day for some, but a very special day for BangkoKabayan employees of Balayan, Nasugbu and Calatagan. Everyone is excited for this year outreach program through a reversed caroling.
In cooperation with Balayan's DSWD office, 10 barangays were selected as beneficiaries and this includes: Brgy. 8, Navotas, San Piro, Palikpikan, Santol, Caloocan, Sambat, Langgangan, Gumamela and Sampaga. Each beneficiary will receive a Noche Buena package with some grocery items. They were all caught off guard since our contact persons were informed not to disclose anything from the recipients. It was all mixed emotions. Some do not have any amount to give and others would suddenly go out to borrow money from their neighbors.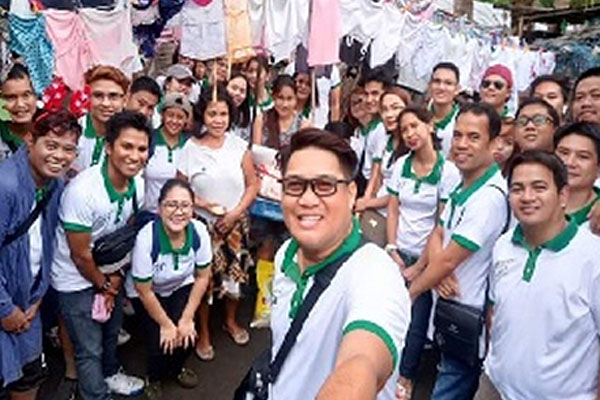 We all had fun. We were able to bond with each other and forget the worries of our work. But, what made this activity more meaningful are the stories behind the chosen beneficiaries. We realized it was really the best idea to visit them instead of bringing them together in one place. In this way, we have the chance to know each beneficiary and witness their current situation.
A beneficiary from Brgy.Navotas lives only a few steps away from a swamp. Her house is made up of "trapal" and tarpaulin wherein she can't even stand straight inside. She lives alone and has severe cataract on both eyes.
The beneficiary from Brgy.Palikpikan also has a touching story. She is an old maid without any source of living and she even refuses to accept her neighbor's help for food. The DSWD personnel who assisted us said that the woman only accepts food from his brother whom she asked to come. Upon seeing what we brought for her sister, the brother suddenly cried. He told us, "Ipinanghihingi ko talaga yan sa mga anak at pamangkin ko kasi hindi na din naman ako makapag trabaho, basta mabigyan ko siya hindi ako mahihiya. Salamat at mayrong pumunta sa unang pagkakataon para magbigay."
Everyone was mummed and teary eyed as we witnessed the sibling's touching moment. The silence was broken by the outburst of the old lady. She was very angry and refused to accept our gift. The relatives apologized for her actions and explained her condition. With that, we decided to leave and the brother was truly gratefulfor what they received that day. She might be hungry at times but she will always be filled with love from her brother.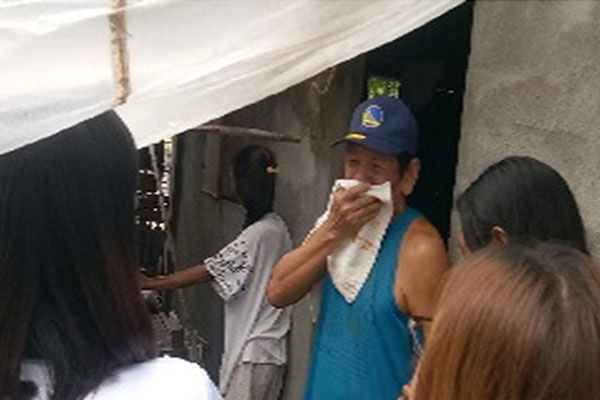 Another recipient is a young woman in her mid 20s. Her husband passed away a few months ago. She is having difficulty raising her children because no one will watch over them. The eldest is only five years old. She also has a cleft palette that limits her work. While her children are excited unpacking the food in front of us, no words or even simple thank you uttered but the tears that continuously flowedsaid it all. It was definitely "more than words".
The activity finished later than we expectedbut time was not an issue. This outreach program is not just a duty but a privilege to be able to help others. The bank does not only respond to our desire to earn to live, but to sustain our longing to live a meaningful life through giving.
Thank you for making us realize that a simple act can touch one's life big time. It is not how much we give, but the efforts to reach out at a time when nobody else seemto care. As an inspirational author, Shannon L. Alder said, "Carve name on hearts; a legacy is etched into the minds of others and the stories they share about you". It was not only the live of the beneficiaries that the bank touched, but the employees as well. You had instilled in us the value of giving and compassion. With that, I can proudly say, we had truly reached success!