Give Heart for Christmas
Details

Created: Saturday, 09 December 2017 10:18
Leah Gonzales (San Jose Branch)
Outreach is an activity of providing services to communities that might not otherwise have access to those services. A key component of an outreach activity is that the groups providing it are not stationary, but mobile, in other words they are meeting those in need of outreach services at the locations where they are. Two branches of BangkoKabayan Cuenca and San Jose joined forces to help persons with disabilities (PWDs) in San Jose Batangas. Some of them are not capable of going to the municipality to get help for their needs. The outreach program made us realize that somehow, in some simple ways, we could bring happiness to others. We could make Christmas meaningful by doing good deeds for other people. I would cherish that moment as one of the best Christmases I've ever had because of the thoughts of the PWD's especially their parents that made us cry.
Being able to share God's blessings with the little children truly show the essence of Christmas- the season of giving. No matter how simple the ways and how small the amount, it is the willingness and joyfulness to share that counts. Through this simple activity, we were able to convey the message to the children and to their parents that if they strive harder in life, there will be more people who will be willing to help them.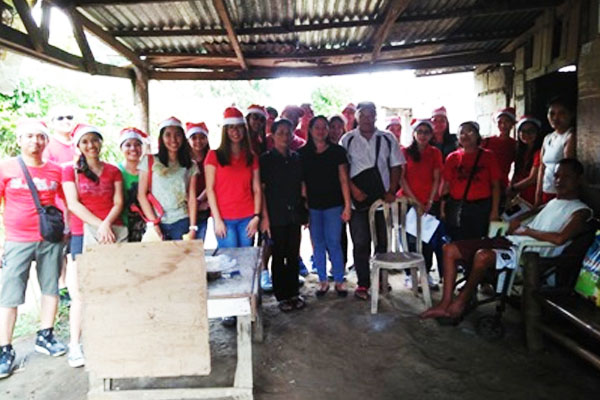 This outreach program serves as a learning experience to every individual. It makes us realize the beauty of living. Be happy with what you have, other people may have it worse than you. The PWD's at the barangay don't live a life filled with luxury. And it wasn't their decision to live like this. They don't have cellphones, laptops, rooms with air-conditioning units, or their own TV's. We are blessed for what we have and I realize I have to be content with it. I may complain sometimes about how I don't have the latest phone or the money to get things that I want but some people don't even have the things I have right now. Even in times of hardships, it is possible to be happy. We saw that even if we aren't that fortunate in life, it is possible to be happy. Be happy for the memories and experiences you have in life and not the material things.
Material things come and go but it's the memories and experiences that truly stay with us.