BK's 60th Anniversary : Ang Tunay na Kabayan Walang Iwanan
Details

Created: Saturday, 19 August 2017 10:18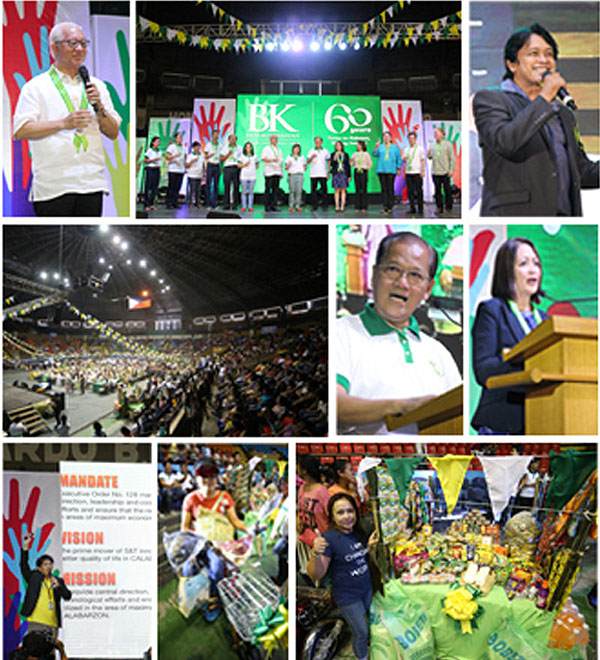 Negosyo Fair
Last August 19, 2017, a festive celebration was held at the Batangas Sports Coliseum in celebration of Bangko Kabayan's 60th anniversary. It was attended by a crowd of more than 4,000 composed of clients, employees and guests. The event started with a ribbon cutting to open the Negosyo Fair. More than 20 micro and medium businesses were given the chance to sell their products. Attendees on the other hand, can take home a sari-sari store package, an e-bike and other minor prizes, if they purchase at least Php 100.00 from these businesses in order for them to get a coupon to qualify.
As a traditional part of every company event, talks from various honorable personalities, as well as bank's higher management were heard. The bank was privileged to hear some commendations from the provincial governor, Hon. Hermilando Mandanas and BSP's Deputy Governor Chuchi Fonacier.
A luncheon party was also held exclusively for Senior clients who were celebrating their 60th birthday. They were serenaded by the bank's finest singers and a matinee idol of their times, Mr. Marco Sison.
Following the luncheon party is a kiddie party for Bibo Kid Savers. Bibo Kid Savings is one of the deposit products of the bank that encourages the young ones to save for their future. Selected kid savers were given a free life insurance. A Money Relay game was enjoyed by both the kids and their parents.
As part of the bank's continuous care for its clients, the bank announced its partnership with Unilever PureIt. Mr. Brian Duruin (Product Manager of Unilever PureIt) and Mr. Nimrod dela Pena (Microfinance Head of BK) discussed the benefits of using the water purifying unit and how it can be availed.
A representative from DTI and DOST were also present in the said event, Ms. Marissa Argente and Mr. John Michael Lorendo. Ms. Argente talked about how one can improve a business and gave some guidelines on complying with government requirements. Mr. Lorendo on the other hand, presented fresh ideas on how to improve product packaging for better marketability.
The Negosyo Fair ended with the much awaited grand raffle. Ms. Carvie Magnaye from Sariaya, Quezon won the sari-sari store package while Ms. Marieta Roallos from Rosario, Batangas took the e-bike home.
The celebration with the clients through the Negosyo Fair was remarkable but the bank is also sensible to acknowledge its most valuable asset – its employees. After giving thanks to the Creator through a holy mass, a dinner buffet was served while giving away raffle prizes.
The night was full of recognition. Most of the employees were surprised and overwhelmed when they heard that they were given a blessing as part of the 60th anniversary celebration of the bank. Twenty-three management trainees graduated from the Leadership and Management Program. There were the usual awards given to industrious employees who work while studying, to employees who have exerted more concern and effort than what is required of them, and to employees who have demonstrated excellence in their work areas.
A special award called "Dahil Sa'yo Inspirado Ako" was also given that night. This award was given to 5 individuals who have displayed excellence either in their work or personal lives that brought inspiration to their fellow colleagues. The recipients of the said award are: Mr. Kevin Torino, Community Development Specialist; Mr. Rommel Agravante, Senior Appraiser; Ms. Eulalia Perez, Chief Information Officer; Mr. Rey Orense, Area Manager and Ms. Jennily Baculo, Credit Management Head.
That night, the employees also witnessed a once in a lifetime performance from the Ganzon Family. They performed a rendition of the song popularized by Yeng Constantino entitled Hawak-kamay, true to BK's battlecry – hindi nang-iiwan at hindi rin nagpapaiwan.