17 Former OFWs graduate from the Ateneo's FLSE Program in Lipa
Details

Created: Saturday, 01 July 2017 10:18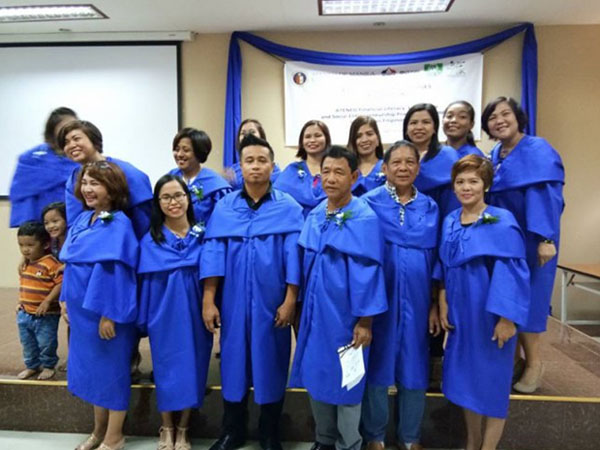 Seventeen (17) former Overseas Filipino Workers (OFW) and OFW relatives graduated from the Ateneo Financial Literacy, Leadership and Social Entrepreneurship (FLSE) Program for Families of Overseas Filipinos last July 1, 2017. Coordinated by BangkoKabayan Foundation Inc. (BKFI), FLSE is an empowerment program targeting family members of Overseas Filipinos Workers (OFWs) in the Philippines in the areas of Leadership, Financial Literacy and Social Entrepreneurship.
FLSE's vision is to unite Filipino migrants and their families towards supporting each other in becoming empowered and highly respected members of society, consciously contributing to nation building.
A highlight of the event is the awarding of three (3) finalists for the best Social Business Plan prepared by the graduates. Cited among 14 business plans were the Utilization of Fruit and Vegetable Peelings as Natural Herbal Soap and Fertilizer by Yolanda Victoria Magpantay, the Production of Clamansi (Pure, Concentrate, Toyo Mansi) by Cristina Wilma A. Malaluan and Saba Production by Leodigario Mendoza. A grant of 25,000.00 each as assistance to these social entrepreneurs will be granted by BKFI. All 14 business plans were also exhibited thru a mini trade fair.